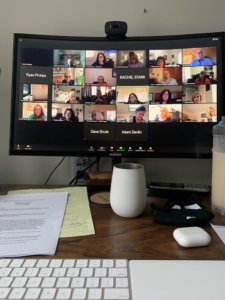 ARTA is composed of close to 30 residential treatment facilities for adults with mental illness. We offer four different styles of residential care to adults with a range of serious mental challenges, including schizophrenia, bipolar disorder, depression, anxiety, personality disorders, and disorders combined with substance abuse.
The small size of our organization enables members to have real knowledge about each other's facilities, and to provide meaningful guidance to people searching for effective mental health treatment. The resources provided on this site are designed to aid you in your search for the right match.
Prior to the pandemic, this group met twice a year in Massachusetts to share best practices and to offer support to one another.  The pandemic caused the group to cancel the meeting last April and left us with a Zoom meeting as the best option last week.   I am very proud to chair this organization and could not be more complimentary to a group of dedicated leaders, especially during this trying time.   I thank all of our members for your support and look forward to meeting in person next April.
Stephen Schramm
Averte
https://averte.com/wp-content/uploads/Weblogo1-300x300.png
0
0
Averte
https://averte.com/wp-content/uploads/Weblogo1-300x300.png
Averte
2020-10-27 09:09:49
2020-10-27 09:09:49
Virtual Bi-annual American Residential Treatment Association (ARTA) meeting.